This is a carousel with one large image and a track of thumbnails below. Select any of the image buttons to change the main image above. The video transcripts are located beneath the product description for any product with a video modal.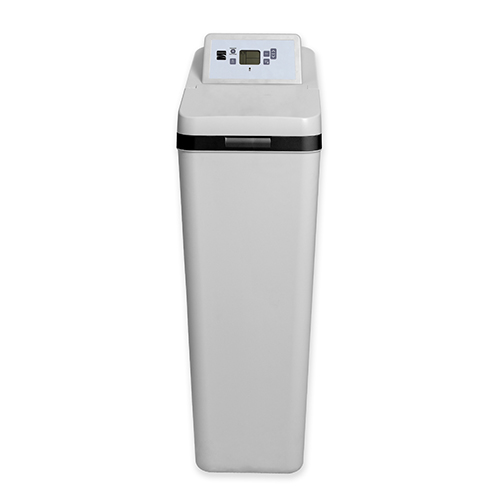 Kenmore® 420 Water Softener
---
An ideal choice for households of 1-5, the Kenmore 40,000 Grain Water Softener is an effective and sophisticated system that can provide an array of benefits around the house. Built with intuitive technology that provides cost savings that other models can't, the Kenmore 420's IntelliSoft® technology tracks your water usage and regenerates beforehand, using only the salt and water it needs instead of operating on a more wasteful timer-based system. This saves you money in salt, water and energy costs and ensures you'll never run out of soft water.
Designed with advanced electronic controls, you can monitor average daily water usage, current water flow, current salt level and more with the Kenmore 420.
Eliminate pesky mineral stains, enjoy healthier skin and hair and protect your water-using appliances by reducing hard water buildup. Soft water can also help you save money on detergent and soap and allows your water-using appliances to work more efficiently with fewer breakdowns and maintenance costs.
Household Size
Ideal for households of 1-5 people, this 40,000 grain system removes up to 120 gpg (grains per gallon) of water hardness and up to 10 parts per million (ppm) of clear water iron.
IntelliSoft® Technology
This intuitive technology monitors and adjusts to your soft water needs, so you never run out of soft water. It also means you'll save money in salt, water and energy costs.
Easy Setup & Maintenance
Built with ease of use in mind, this water softener is simple to install and maintain—no need to call the plumber.
Water Usage Statistics
This feature allows you to get a closer look at your system's efficiency. By pressing the "Water Use" button, you can see how much water flows through the softener and your average daily water use.
Ultra-Flow Valve
The Kenmore 420 has a 1" ultra-flow valve that provides maximum water pressure throughout your home, including your showers and faucets.
Ultra-Cleansing Feature
Built-in screen provides an additional layer of protection against large particles, which helps maintain your water-using appliances and plumbing.
Tank Light
The system's tank light is there to provide visibility inside of the tank in low-lit areas. This light will automatically turn on when you open the tank's lid.
Robust Design
Whether you have a municipal water supply or a private well, this system will effectively reduce hard water minerals, clear water iron, radium and barium.
NSF International Certified
This system was tested and found to meet standards set by the National Sanitation Foundation so you can be confident you're purchasing a quality, third-party tested system.
Standard Factory Warranty
This system comes with the following warranties: 1 year for parts and labor, 3 years for electronics and 10 years for tanks.
Includes
Softener, bypass valve, installation kit and a written installation guide.
Direct Replacement for Older Models
The Kenmore 420 Model 625.384200 has the same height (floor to inlet-outlet) and same 1" valve size as these older Kenmore models:
625.348600
625.348670
625.383760
625.384200
625.384260
625.385200
625.388400
625.388450
625.388460
625.388480
625.388800
625.388880
NOTE: Due to variances in production and assembly, the Kenmore water softener valve height may vary by up to 1/2″ from an existing water treatment system, including existing Kenmore models. This potential change in valve height will not affect system performance.